HALLOWEEN PARTIES AT W SAN FRANCISCO
San Francisco's hottest Halloween parties on Friday, Saturday, and Monday are all happening at the W San Francisco, and you won't want to miss out.
Celebrate early at Halloween International Ball, presented by Aykut Events on Friday, October 28th. Mingle, drink, dance and revel in the Halloween spirit as six world-renowned DJs spin international house, 80s and 90s, mashups and hip-hop in three separate rooms.
Friday - October 28, 2016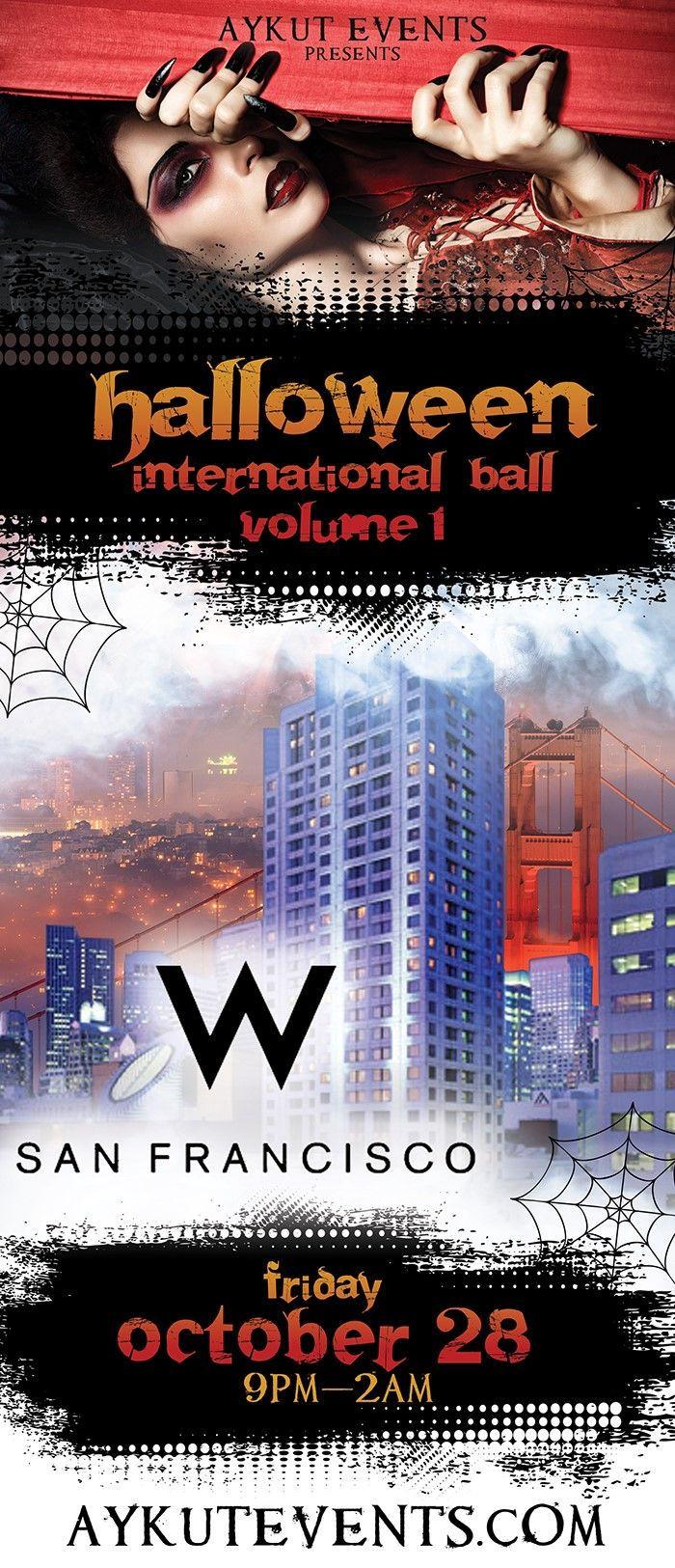 Halloween International Ball
Date: Friday, 10/28/16
Time: 9pm - 2am
Where: W San Francisco | 181 Third Street | San Francisco, CA
Featuring: DJs KBLO, AYKUT, YOUSSEF, DR. T, NITRO &
KEVIN ARMSTRONG
Also Featuring:
Spectacular Samba Dancers
LIVE Drummers with DJs
Costume Contest with Prizes
ROOM # 1 - Grand Ballroom, 3rd Floor
EURO / TOP 40 / INT'L HOUSE MUSIC ROOM w/ DJs:
KBLO, AYKUT & YOUSSEF
ROOM # 2 - Industry Room, 2nd Floor
PERSIAN / MIDDLE EASTERN / INT'L ROOM w/ DJs:
DR T & NITRO
ROOM # 3 - Work Room, 3rd Floor
80's & 90's / MASHUP / HIP HOP ROOM w/ DJ:
KEVIN ARMSTRONG



See pictures from last year's Halloween at the W Hotel.


Aykut Events is known for organizing the MOST fun and absolute best International Themed Parties in SF. Join us at this Spectacular event for an amazing night and spread the word to all your party friends. 21+
Our Halloween Event sells out every year in advance. Secure your tickets now while they last and be part of the absolute BEST!!

Visit the official event page here.

Who's looking for the hottest Halloween haunt? Embrace your alter ego, don your most stylish costume and head to W San Francisco's "sinister chic" Halloween Happening. W San Francisco turns into a hotel-wide haunted house, featuring San Francisco's hottest deejays spinning Top 40, EDM and more. Time to put on your costumes and celebrate Halloween in style.
Saturday - October 29, 2016
5th Annual Haunted Hotel
Date: Saturday, 10/29/16
Time: 9pm - 2am
Where: W San Francisco | 181 Third Street | San Francisco, CA
Featuring:
3 AMAZING FLOORS | 4 ROOMS OF MUSIC | 5 WORLD CLASS HOUSE MUSIC & OPEN FORMAT DJs
LIVING ROOM // House
INDUSTRY ROOM + UPSTAIRS LOUNGE // Top 40 // Hip Hop
GREAT ROOM // EDM
VIP LOUNGE // Open Format
Visit SF Night Life for tickets to Saturday's event (from $30/person and price subject to change at any time)
Presale purchase required - Get your tickets early, as the price will steadily increase.
Table Service Available - Please check packages on the bottom of Ticket section
COSTUMES REQUIRED. No toy guns or weapons of any kind allowed.
Click here to book your VIP Table Service for Saturday.
Click here to book a hotel room.
Monday - October 31, 2016
Nightmare on 3rd Street
Date: Monday, 10/31/16
Time: 9:30pm - 2am
Where: Upstairs Bar
W San Francisco | 181 Third Street | San Francisco, CA
Featuring:
E-ROCK, presented by Entity Nightlife Group, Series Group & Zyme
Reservations:
For table reservations, call or text 415.766.8114
Invitation required for admission.
Book a Hotel Room
Click here to book a hotel room.
Please note a hotel room does not guarantee a ticket to the Haunted Hotel Halloween event. If you are interested in staying at W San Francisco and attending the event, please secure your tickets ahead of time by clicking HERE or calling 415-573-0740.
Need a ride to the hotel?
We're partnering with Uber to give W guests $20 off their first rides – at the click of a button, bring an on-demand driver to you for transport to the W, the airport, or anywhere else around the city. Sign up here, use the code WHOTELSF when you sign up in-app or text the code to 827-222 to grab your own private driver.
Questions & Comments
Questions or comments about our 5th Annual Haunted Hotel Halloween party at W Hotel San Francisco, don't hesitate to call 415-573-0740 or email at info@sfnightlife.com.